Roll over image to zoom in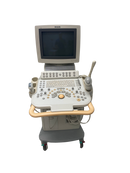 Description
Refurbished Philips HD11 Ultrasound With Abdominal 3D/4D, Endovaginal 3D/4D, Abdominal 2D
Full Cardiac and Stress Echo Capability
This system has the versatility to expand into a complete, digital cardiovascular imaging system for further clinical utility and value.  You can also add powerful options like QLAB advanced quantification, stress echo, contrast imaging, and transesophageal echo to further enhance your cardiovascular imaging capabilities.
Regional Anesthesia and Emergency Medicine Packages
Get outstanding image quality and ease-of-use for ultrasound guided regional anesthesia and emergency medicine with special configurations that are surprisingly affordable.
Volumetric Imaging
The HD11 XE brings 4D imaging into mainstream by delivering it on a platform with an unmatched combination of versatility and value.  Move seamlessly through 2D and Doppler modes right into breathtaking 4D studies.  The system's powerful architecture supports continuous, precise, quantitative volume acquisition and display, with easy, simultaneous visualization and measurements in three planes.  Numerous innovations are on-and-off-cart to give you stunning image quality and the potential to improve your exam efficiencies by changing the way you acquire and visualize ultrasound data.
Standard Advanced Features
SonoCT compounding
XRES processing to eliminates speckle noise artifact
2D with Pulse Inversion Harmonic Imaging
3D imaging with multiplanar views, for qualitative freehand 3D images
Adaptive Color Doppler
Pulsed wave and continuous wave Doppler with adaptive Doppler technology
Contrast Imaging
The contrast option equips the HD11 to detect harmonic agent signatures. The option provides a uniform power field, allowing more even excitement of contrast agents throughout the sector.  Optimized LVO system settings on the HD11 XE decreases contrast agent destruction and increase ease-of-use by minimizing the need for system adjustments.  All of which add up to more complete visualization of contrast throughout imaging.
Panoramic Imaging
The Panoramic Imaging option provides an extended field-of-view display.  This feature creates a series of real-time images while the user moves the transducer laterally across the anatomy.  When the imaging is complete, the system renders a panoramic mosaic display.  The resulting panoramic image provides a larger reference image for documentation of spatial relationships of structure.
Data Management and Connectivity
Image and data management capabilities allow flexible recording, archiving, editing, and even exam reports with embedded images.
On-screen Image Thumbnails Let You Build Your Study and Check Exam Status, At A Glance
Multi session CD and optional peripheral device allow you to meet your documentation and archiving needs.  Prepare professional patient reports with embedded images.
Payment & Security
Payment methods
Your payment information is processed securely. We do not store credit card details nor have access to your credit card information.
---
Security