Roll over image to zoom in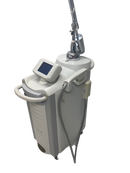 Description
The Sciton Profile MultiPlatform Laser is a medical laser system used for a variety of cosmetic and dermatological treatments. It is a versatile device that can be used for skin resurfacing, wrinkle reduction, hair removal, and treatment of vascular and pigmented lesions. The MultiPlatform feature allows for the use of different laser handpieces for different treatment options, making it a flexible and convenient option for medical practices. The device is equipped with advanced cooling technology to ensure patient comfort during treatments, and it has a user-friendly interface for ease of use by healthcare professionals. The Sciton Profile MultiPlatform Laser is known for its precision, speed and effectiveness, making it a popular choice in the cosmetic and dermatology industries.
Sciton BBL (BroadBand Light) is a type of Intense Pulsed Light (IPL) treatment used for various skin concerns such as sun damage, age spots, freckles, fine lines and wrinkles, and rosacea. It works by delivering high-intensity pulses of light energy to the skin, which are absorbed by the target pigmented or vascular lesion. The heat generated by the light energy causes the lesion to break down and eventually fade away. BBL technology uses different filters to target specific concerns, making it a versatile and effective treatment option. The treatment is non-invasive and relatively painless, and it can be performed in a medical setting by a licensed healthcare professional. Sciton BBL is known for its safety, efficacy, and quick recovery time, making it a popular choice among patients seeking skin rejuvenation.
ProFractional Laser is a type of laser skin resurfacing treatment used to improve the appearance of fine lines, wrinkles, acne scars, and other skin imperfections. It works by using a laser to create tiny, deep columns of heat in the skin, which triggers the body's natural healing response and promotes the production of new collagen and elastin. Unlike traditional laser resurfacing, which removes the entire surface layer of skin, ProFractional Laser only affects a fraction of the skin, leaving the surrounding tissue intact to aid in the healing process. This results in faster recovery time, minimal discomfort, and less risk of complications compared to traditional laser resurfacing. The treatment is typically performed by a licensed healthcare professional, and is often used in combination with other cosmetic procedures to achieve optimal results.
Please call us to find out what we have in stock along with what modules you need for your laser!
Contact us today 305-447-2526
Payment & Security
Payment methods
Your payment information is processed securely. We do not store credit card details nor have access to your credit card information.
---
Security