Roll over image to zoom in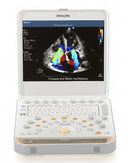 Description
If you are looking for a powerful portable ultrasound with high-quality imaging and advanced features built-in, then the Philips CX50 is worth considering. Scroll below for more information about the CX50's capabilities and specifications.
Philips CX50 Dimensions & Weight
Height: 86 mm (3.4 in)
Width: 413 mm (16.25 in)
Depth: 356 mm (14 in)
Weight: 7.3 kg (16.2 lbs.), approx. 43 lbs. with packaging
Philips CX50 Specifications
Next-generation all-digital compact broadband beamformer with pulse shaping capability.
Up to 504,576 digitally-processed channels.
Image presentation: Depth from 1 cm to 30 cm (transducer dependent).
Up to 170 dB full-time system dynamic range.
Philips CX50 Technology Definitions
AutoSCAN image optimization: This Philips CX50 feature automatically and continuously optimizes the brightness of the image at the default gain and TGC settings for the best image quality. It can be turned on and off as needed.
iSCAN intelligent optimization: This feature provides automatic one-button global image optimization on the Philips CX50 through AI adjustment of TGC, Doppler and receiver gain, compression curve, Doppler PRF, and Doppler baseline.
Advanced XRES adaptive image processing: This is an advanced real-time speckle reduction feature standard on the CX50 that also enhances edge definition.
SmartExam protocols: A step by step user-customizable set of protocols on the Philips CX50 that can help speed exams and increase consistency.
PureWave crystal technology: Philips version of the single crystal transducer technology that improves image quality on the CX50 at higher penetration. This makes it easier to diagnose difficult-to-scan patients.
Active native data: On the Philips CX50 this is a software tool that enables image processing, quick data re-acquisition, and image analysis with the same resolution and same frame rates of the original images. It is available in 2D mode, PW & CW Doppler, Color Doppler, and Physio. Active native data helps shorten exam duration, improves clinical workflow by post-processing, and reduces the time needed to keep the probe on the patient.
Live Compare: This feature of the CX50 allows the recall of current or previous exam image data for direct side-by-side comparison with current image data.
SonoCT: This is real-time compound imaging on the Philips CX50 that obtains multiple coplanar, tomographic images from different viewing angles, then combines them into a single compound image at real-time frame rates.
PureWave Crystal technology: A breakthrough single crystal technology on the CX50 that allows greater acoustic efficiency and bandwidth than piezoelectric (Ceramic) technology.
Wireless & wired DICOM for connectivity in any environment
The CX50 system features a high resolution monitor for excellent viewing in the most difficult portable environments, and fast system start-up allows you to quickly begin your studies. Wireless and wired DICOM allow flexibility when connecting to your PACS. You can also export your data by DVD and USB media with integrated DICOM viewer.
PureWave Everywhere
PureWave technology represents one of the biggest breakthrough in piezoelectric transducer material in 40 years. The pure, uniform crystals of PureWave are 85% more efficient than conventional piezoelectric material, resulting in exceptional performance. This technology allows for improved penetration in technically difficult patients with a single transducer for excellent detailed resolution.
Expand diagnostic information
The CX50 offers assessment and analysis capabilities with QLAB's Q‐Apps: GI 3D quantification (GI 3DQ), Region of interest (ROI), Intima media thickness evaluation (IMT), Cardiac motion quantification with speckle tracking technology (CMQ), Strain quantification (SQ), and MicroVascular imaging (MVI)
Portable ultrasound when fast action is needed
Getting high quality diagnostic data from portable exams is complicated by many factors. Now you can have the image quality you need for diagnostic confidence wherever you need it. Take the CX50 to your patients – in the surgical suite, CCU and ICU, in labor and delivery and at satellite clinics and screening events, in the ED and OR, and in the NICU or PICU. The CX50's image quality and compact size makes it the ideal choice where space is limited.
Digital broadband beamforming on a compact
SmartExam protocols are easy-to-use customizable guides that help you perform complete studies on every patient. The on-screen menu guides you through the required views for a specific exam type, automatically enters annotation, and builds your report. Save time, reduce repeated moves, and increase efficiency and consistency of exams.
Remote travel
The CX50 system is the ideal solution for multiple‐site support. With its convenient travel case, you can easily take the CX50 to distant clinical locations. Now clinical staff can support satellite offices, screening events, and mobile services with premium imaging.
Payment & Security
Payment methods
Your payment information is processed securely. We do not store credit card details nor have access to your credit card information.
---
Security