M22™Modular Aesthetic Laser Multi-Application Platform
M22™ is a modular multi-application platform for the treatment of over 30 skin conditions and hair removal.
Used by physicians around the world, M22™ enables you to treat a vast variety of patients and conditions with excellent outcomes.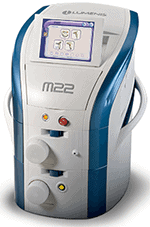 4 Multiple Technologies in One Modular System
M22™ grows with your practice
Expands to your treatment needs and adapts to future applications as they emerge.
Optimal Pulse Technology (OPT™)

Single handpiece with changeable filters and lightguides

For IPL skin treatments using photorejuvenation
The only True fractional non-ablative, with CoolScan™ scanner

No disposables

For skin resurfacing
With Multiple Sequential Pulsing (MSP™)

2 sized lightguides, changeable in seconds

For treatment of leg veins and vascular lesions
 Homogenous beam profile for enhanced treatment safety and efficacy

 For skin toning by treatment of pigmented lesions and dark tattoos removal
All States MED guarantees excellent prices and outstanding customer service.
Give us a call today 305-447-2526 to confirm availability, options and pricing.