Roll over image to zoom in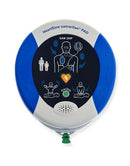 Description
HeartSine samaritan PAD 360P (fully automatic) is a simple to use and simple to own AED. 
 BRAND NEW 8-Year Manufacturer Warranty
THE SIMPLEST AUTOMATED EXTERNAL DEFIBRILLATOR TO OWN:
One Expiration Date: The HeartSine 360p Pad-Pak incorporates the electrode pads and battery in a single cartridge system, meaning you only have to keep track of one accessory and expiration date.
Only two buttons: Power Button & Shock Button.
Weekly Self-Tests: The 360p performs weekly self-tests and has a green flashing indicator letting you know the device is ready for action.
LOW COST OF OWNERSHIP:
Savings Over Time: by combining the AED pads and battery into a single cartridge system, the 360p passes large savings to consumers.

Many other AEDs on the market have pads that must be replaced far more frequently on top of also requiring expensive battery replacements. The HeartSine 360p Pad-Pak's 4 year shelf-life is comparable to other AED batteries and outlasts the shelf-life of most other AED pads meaning you see savings within your first replacement cycle.

The HeartSine 360p device is priced competitively, among the lowest prices for new AED units while still offering comparable features to the latest AEDs on the market such as audible CPR coaching.
LIFESAVING TECHNOLOGY:
CPR Coaching: The 360p features visual and voice prompts helping guide you step-by-step through the rescue process. Device icons will light up showing you which step you are on while clear audio prompts will provide steady guidance on how to perform each and every step. CPR compressions are guided through an audible metronome.
SCOPE biphasic technology: The 360p adjusts its shock level automatically depending on varying patient impedances (resistance to electrical currents). This means your device will monitor and adapt.

Easily upgradable: You can upgrade your device easily whenever the need arises. The HeartSine Gateway attachment provides your device with WI-FI connectivity, allowing for easy management and monitoring of remote devices in multiple locations.

Unlike other AEDs that require all features to be enabled at purchase, the 360P allows you to upgrade your device at any point in time by getting a HeartSine Gateway.
PORTABLE YET DURABLE:
The 360p is the smallest AED available at 8.0" x 7.25" x 1.9" making it a great fit for all buildings, businesses, and even homes.
Also the lightest AED on the market at 2.4lbs, it is readily accessible for all users, from first responders on the go to public bystanders.
IP56 Rating: Despite being the smallest AED, the 360p is built durable, receiving an Ingress Protection Rating of 56 – meaning it is protected against water, dust, and dirt.
Payment & Security
Payment methods
Your payment information is processed securely. We do not store credit card details nor have access to your credit card information.
---
Security