Roll over image to zoom in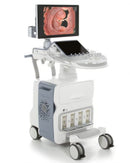 Description
The GE Voluson E10 is the top-of-the-line premium 4D OB/GYN ultrasound machine. The E10 supersedes but does not replace the lower priced Voluson E8. The E10 offers 4 times the processing power of the E8 a larger screen, sophisticated beam formation and new rendering technologies. The new processing power speeds render times and smooths frame rates so that HD live is even more realistic. However the steep price difference with the E8 means that for now most doctors will still choose the proven Voluson E8.

Please note all prices may vary according to the version, condition, software, configuration of the machine.  For more details and best pricing click the button below or call us now at 305-447-2526
General Specifications: 
Year Launched: 2014
Monitor (inch): 23" LED
Tilt/Rotate Adjustable Monitor: Yes
Monitor Resolution: 1920x1080dpi
Touch Screen (Inch): 12.1"
Trackball or Trackpad: Trackball
CP Back-Lighting: Yes
Weight: 324lbs(147Kg)
Probe Ports: 4
Battery: No
Sleep Mode (Quick Start): No
Maximum Depth of Field: 30cm
Minimum Depth of Field: 0-2cm
Cart (HCU): No
Independent Steer & Lockable Wheels: Yes
Transducers: Call for Specifications
Features & Highlights: 
Tissue Harmonic Imaging, Spatial Compounding (Cross X beam), Speckle Reduction (SRI), Auto Image B mode and Doppler, Write Zoom, Triplex Mode, Auto NT, Sono, Auto Follicle 2D/3D Measurement, Auto IMT, Live Dual Mode (B/BC), Smart Exam, Scan Assistant, Raw Data File, Flexible Report. 
 *Please note, due to high demand and customization required call us to confirm options, transducers, software and final pricing. 
Payment & Security
Payment methods
Your payment information is processed securely. We do not store credit card details nor have access to your credit card information.
---
Security