Roll over image to zoom in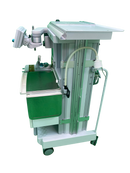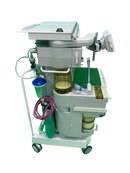 Description
GE Datex Ohmeda Aestiva 5 Features

The GE Datex Ohmeda Aestiva 5 is an anesthesia machine that has an integrated breathing circuit. This helps simplify cable management, improve patient safety, and keep components protected from damage or disconnection. The GE Datex Ohmeda Aestiva 5 has smart sensors and switches that provide uninterrupted communication between the breathing circuit and the SmartVent ventilator. The GE anesthesia machine, Aestiva 5 has been designed to allow for ventilation of a wide range of patients from pediatric to adult cases.
SmartVent - The GE anesthesia machine's SmartVent offers excellent respiratory function but saves the cost of a separate ventilator. Its flexible design and straight forward operation enhance the SmartVent's capabilities to give a higher level of control.
Low Flow Anesthesia - The Aestiva® 5 provides optimized low flow anesthesia. This enhances safety while reducing the agent operating costs of the machine.
Modular Technology - The flexible open interfaces will allow you to use your current monitors and systems, stay in budget, and still have functional integration. The built-in machine diagnostics makes for streamlined service and preventive maintenance.
The Aestiva 5 offers a unique combination of quality performance and cost-control.
With the 7100 ventilator, the Aestiva 5 provides a wide range of capabilities including optimal tidal volume compensation, and integration volume and oxygen monitoring.
Patient centered engineering and clinician-oriented efficiency.
2 or 3 vaporizer configurations.
GE Datex Ohmeda Aestiva 5 Specifications
Dimensions (2 Vaporizers)
Height: 53.4" (135.8 cm)
Width: 29.5" (75 cm)
Depth: 32.7" (83 cm)
Weight: 300 lbs (136 kg)
Work Surface
Height: 34.5" (87.5 cm)
Width: 18.5" (47 cm)
Depth: 12.4" (31.5 cm)
Modes of Ventilation
Volume Control Mode: With tidal volume compensation
Pressure Mode: (optional)
Ventilation Parameters
Tidal volume range: 45 to 1500 mL
Incremental Settings: 45 to 100 mL (increments of 5 mL); 100 to 300 mL (increments of 10 mL); 300 to 1000 mL (increments of 25 mL); 1000 to 1500 mL (increments of 50 mL)
Pressure (PInspired) Range: 5 to 50 cm H2O (increments of 1 cm H2O) (Pressure mode)
Rate: 4 to 65 breaths per minute (increments of 1 breath per minute)
Inspiratory/expiratory Ratio: 2:1 to 1:6 (increments of 0.5)
Inspiratory Pause Adjust: 5% to 60% of inspiratory time (increments of 5%)
Positive End Expiratory Pressure (PEEP)
Type: Integrated, electronically controlled
Range: OFF, 4 to 30 cm H2O (increments of 1 cm H2O)
Ventilator Monitored Values
Tidal volume: 5 to 1500 mL, 1 mL resolution
Minute volume: 0 to 99.9 L/min, 0.1 L/min resolution
Breathing rate: 0 to 65 breaths per minute, 1 breath per minute resolution
Oxygen Percentage: 5% to 110%, 1% resolution
Airway pressure: –9 to 99 cm H2O, 1 cm H2O resolution
Delivery/Monitoring Accuracy
Volume delivery: > 200 mL = better than ±10% Set TV; 75 to 200 mL = better than ±20 mL; < 75 mL = better than ±15 mL
Pressure (PInspired) Delivery Repeatability: ±2 cm H2O
PEEP Delivery Repeatability: ±2 cm H2O
Volume Monitoring: > 200 mL = better than ±10%; 75 to 200 mL = better than ±20 mL; < 75 mL = better than ±15 mL
Pressure Monitoring: Better than ±2 cm H2O or ±5% of reading (whichever is greater)
Delivery
Vaporizers: Tec 5, Tec 6 Plus, Tec 7 (Not Included)
Number of Positions: 2 or 3
Mounting: Tool-free installation Selectatec manifold interlocks and isolates vaporizers
Ventilator Pneumatics
Pressure Range at Inlet: 240 kPa to 700 kPa/35 psig to 100 psig
Peak Gas Flow: 70 L/min + fresh gas flow
Flow range: 2 to 70 L/min
Flow Compensation Range: 200 mL/min to 15 L/min
Battery Back-up
Backup power: Demonstrated battery time under typical operating conditions is 90+ minutes when fully charged. Battery time under extreme conditions is 30 minutes.
Battery type: Internal rechargeable sealed lead acid
 System is refurbished and Certified, If you need a monitor and vaporizers please contact us.
Payment & Security
Payment methods
Your payment information is processed securely. We do not store credit card details nor have access to your credit card information.
---
Security