Roll over image to zoom in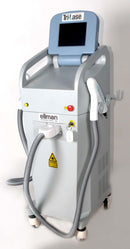 Description
TRI-LASE™ LASER SYSTEM
The Tri-Lase™ laser system is a safe and effective and preferred by patients and professional as the laser of the combination of innovation and performance. The Tri-Lase™ provides outstanding treatment results for: removal of tattoos and treatment of pigmented lesions. The Tri-Lase™ laser can be applied to most areas of the body.
The Tri-Lase™ has been suited with an arsenal of light-based wavelengths that are specifically attracted to tattoo ink. In order to clear the ink from the skin, the laser system creates a collimated energy beam of light. The light will pass through the outer skin layers targeting only the embedded ink. Energy from the laser is rapidly absorbed by the ink causing the pigment to fracture into microscopic particles. Over time, the body's immune system will clean the particles from the skin causing the tattoo to fade and eventually disappear.
The Tri-Lase™ laser system contains specific technical advantages for removing a wide variety of tattoos. These range from: professional to homemade or amateur, as well as traumatic and surgical tattoos.
Not all body art is created alike; many factors are involved that determine the number of treatments needed, such as: – How long the tattoo has been in the skin (Newer tattoos are a little more resistant while older tattoos are easier to remove). -The depth of ink in the skin. – The type of ink in the skin (There are many different types of pigment that could have been used to create the tattoo). – Was the tattoo created by a professional artist or an amateur.
Usually professional tattoos will need 3-9 treatments. The sessions will be spaced 4-6 weeks apart, allowing the body's immune system to naturally remove the pigment fragments.
Highly effective for all tattoo colors, including red, orange, yellow, light green and even deep purple, the Ellman Tri-Lase Laser System is a smart choice for the most effective tattoo removal.

Also ideal for skin resurfacing, wrinkle smoothing and micro-laser peels, the Ellman Tri-Lase was designed to deliver better results with less pain than traditional laser systems, with an adjustable spot size to make it easy to precisely target treatment areas.

The Ellman Tri-Laser machine offers a professional solution for highly effective and safe tattoo removal that produces maximum results in just a few treatments. Unlike older methods of tattoo removal, the Ellman Tri-Laser utilizes advanced technology that delivers maximum power while protecting the surrounding areas of tissue. Thanks to the system's industry-leading Tri-Lase Q-switched yag laser technology, this powerful laser from Ellman offers a completely uniform beam technology to eliminate hot spots and ensure consistent energy distribution. This results in reduced skin damage and less swelling and pain during treatment.

Detailed Product Description:
Medical-grade tri-phase laser
Smart, cost effective laser for clinical settings
Lightweight, ergonomic hand piece
Ability to offer multiple services with one machine
Laser Type: Q-Switched Nd: YAG/Erbium
Wavelength: 1064 / 532 / 2940
Power: 100 v
Ellman Tri-Lase Applications:
Removal of tattoos and permanent makeup
Smoothing of fine lines and wrinkles
Removal of pigmented lesions (for skin types I-IV)
Superficial skin resurfacing
Micro-laser peels
Payment & Security
Payment methods
Your payment information is processed securely. We do not store credit card details nor have access to your credit card information.
---
Security