Roll over image to zoom in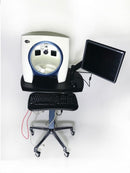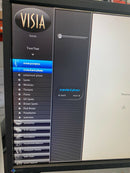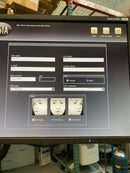 Description
Canfield Visia Skin Facial Imaging System
Canfield Visia Skin Facial Imaging System provides quantitative assessment of skin features. Measure spots, pores, wrinkles, evenness, porphyrins, UV spots and photo-damage. Grading of skin relative to peer group. Compare a female or male patient's skin features to other individuals of the same age and skin type
Reproducible facial photography – Ensure reproducibility of images between time points built-in positioning aids and standardized lighting
Multi-spectral imaging – Uses standard white light, cross-polarized flash and UV photography to record and measure surface and subsurface skin condition
RBX™ Technology – The new RBX Technology from Canfield provides extraordinary new visualization and analysis of sub-surface melanin and vascular conditions.
3D Viewing – Visualize the skin's surface in three dimensions from any angle, rendered in natural skin tone, color relief or gray scale.
Customized reports – Provide patients with easy-to understand, customized reports including recommendations for treatment and skin care
Integration with Mirror® medical imaging software – Harness the power of Mirror to get even more out of your VISIA images
Notes builder – Increase quality in providing treatment recommendations while saving time with predefined, customizable patient notes and treatment plans
Loupe tool – Instantly zoom in and magnify image areas for close examination of a specific skin characteristic
Multiple database options – Organize patients as needed, such as by physician or separate clinical studies
Image export – Easily transfer images from VISIA to MS PowerPoint,Word or other programs for use in presentations, publications and more
User-friendly interface – VISIA's attractive, intuitive interface gets staff members up to speed quickly
Networking option available – With the available networking option, access images and conduct consultations on networked PC workstations, other VISIA systems or centralized databases
Canfield Visia Skin Facial Imaging System Specifications
Automatic focus
Automated white balance correction
Facial positions: Left 37°, Center 0°, Right 37°
Headrest: Adjustable vertically three positions
Chinrest Height: 8.8 in (22.3 cm) from table
Headrest Height: 16 in (40.6 cm) from table
Multi-spectral Imaging

Standard light IntelliFlash
Cross Polarized flash
Ultraviolet lighting
Centered Size: 13 x 14.2 x 20.9 in (32.9 x 36 x 53.1 cm)
Total footprint with 3 position swing: 15 x 22.9 x 20.9 in (38.1 x 58.2 x 53.1 cm)
Weight: 31 lbs. (14 kg)
THERE ARE DIFFERENT SKUES FOR THE VISIA, PLEASE CALL TO FIND OUT WHICH UNIT WE HAVE AVAILABLE AT THE TIME. 
Payment & Security
Payment methods
Your payment information is processed securely. We do not store credit card details nor have access to your credit card information.
---
Security