Roll over image to zoom in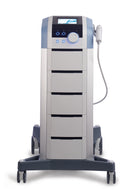 Description
Pre Owned
What Is Cellutone®?
Cellutone is a technological platform that delivers high-frequency pulsed shockwaves by the painless mechanical vibrating head into the targeted area to reduce the appearance of cellulite and stretch marks. The procedure is nonsurgical, noninvasive, painless, and requires no anesthesia or downtime. It can be used on potentially any region of the body, including the arms, stomach, hips, thighs, and buttocks.
How Does Cellutone® Work?
Cellulite is formed by tight fatty structures that are visible beneath the skin. Using vibrational energy on these structures, micro-bursts of pressure induce tissue changes. In effect, the dermal tissues and the deeper fat layers can be made more flexible, and cellulite and other contour problems less apparent as the microscopic bands holding the skin downward are broken. Mechanical vibrations from Cellutone also aid in microcirculation, which increases blood and oxygen levels, improves waste elimination within the metabolic system, and leads to smoother skin with the rebuilding of collagen and elastin fibers. This technique can be used on patients of all ages 18 and over, as well as people of any skin tone or type. As post-treatment results depend on the healing responses of your tissues, the results will fade over time as your tissue continues to age, and another treatment series many months or years later may be beneficial.
What Are the Benefits of Cellutone®?
Cellutone offers a wide range of benefits that make it stand out as a cellulite treatment option. Some of the advantages include:
Reduced appearance of skin dimpling and stretch marks
Improved skin texture
Improved body contour in previously treated areas
No downtime
No side effects
No pain for most patients
No surgery, incisions, needles, or anesthesia
Natural-looking results, as it triggers your body to heal itself
Payment & Security
Payment methods
Your payment information is processed securely. We do not store credit card details nor have access to your credit card information.
---
Security