Roll over image to zoom in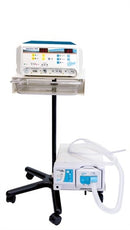 Description
Bovie has combined their Aaron 1250S desiccator package with a superb smoke evacuation system and the latest in mobile stand technology to produce a compact, mobile system for the office or hospital.
As an added benefit, Bovie has included a loop electrode kit (5 of the most popular loops) and a smoke evacuator hose reducer fitting for attaching a vaginal speculum to create the best GYN system on the market today.
Condition:

 Factory New



Warranty:

 3 Year
Features and Benefits

A1250S Electrosurgical Generator Features
Offers two levels of coagulation: pinpoint and fulguration. Pinpoint coagulation provides precise control of bleeding in localized areas. Fulguration (spray) coagulation provides greater control of bleeding in highly vascular tissues over broad surface areas.
Machine remembers its last selected Cut and Coag settings; so when you turn the unit on, it performs a safety system check and automatically powers up to those settings.
Incorporates automatic safety systems into the Aaron 1250S like self-test circuits, audible tones, discreet outputs, and isolated output circuitry.
Calibrated in watts with large, illuminated digital displays.
Touchscreen provides smooth, rapid push button design with easy access
Five Output Modes:

Cut
Blend
Coagulation
Fulguration
Bipolar
Smoke Shark II Evacuator Features

Offers up to 35 hours of performance, reducing procedure cost by 38%(+/-) from the previous model, when used at the lowest setting.
Covered 3-port filter design accommodates a variety of tubing sizes [1/4"(6.4mm), 3/8"(9.5mm), and 7/8"(22mm)] providing versatility in procedure and accessory setup.
Ultra-quiet design offers the same excellent performance with less noise.
-3 and RoHS compliant.
Easy to operate.
Materials Included
A1250S electrosurgical generator
A1250S electrosurgical generator

(1) Disposable Pencil

(3) Sterile Disposable Electrodes

(5) Split Grouding Pads
(1) Reusable Grouding Pads
(1) Hospital-grade power cord
Users Manual
SE02 Smoke Shark Evacuator

SE02 Smoke Shark unit

(1) 

FSSE footswitch

(1) SF35 35-hour filter

(1) 786T 7/8" tube 6' long
(1) SERF reducer fitting (attaches to vaginal speculum)
ESMS-C Electrosurgical Mobile Stand

ESMS mobile stand, with instrument drawer
ESMS-B2 bottom tray
ESLK electrosurgical loop kit
ES09 10 mm x 10 mm loop
ES11 15 mm x 10 mm loop
ES12 20 mm x 8 mm loop
ES13 20 mm x 15 mm loop
ES16 10 mm x 8 mm square
(5) ES07 extended ball electrodes
Technical Specifications
A1250S Electrosurgical Generator
Dimensions

Width:

 

26.04 cm (10.25")
Height:

 

15.2 cm (6")
Depth:

 

30.5 cm (12")
Cut:

 

120 watts
Blend:

 

90 watts
Coagulation:

 

80 watts
Fulguration:

 

40 watts
Bipolar:

 

30 watts
Line Voltage:

 

120 VAC ± 10%

Output Frequency:

 

350-800 kHz
SE02 Smoke Shark II Evacuator
Line Voltage:

 

100/120 VAC
Line Frequency:

 

50-60 Hz

Width:

 

27.9 cm (11")
Height:

 

15.2 cm (6")
Depth:

 

39.4 cm (15.5")
Warranty Information

Payment & Security
Payment methods
Your payment information is processed securely. We do not store credit card details nor have access to your credit card information.
---
Security